Expert and practical perspectives on learner-centered LMS Design
21st Century Schools recognize purpose should always be to create a clear, cohesive, and consistent environment for teachers and students to support high-quality teaching and learning while keeping families informed and engaged
Overview
This engaging 2.5-hour session will invite participants to dive into a learner-based design approach to their school's LMS. Participants will learn how individual schools have developed a thoughtful and structured approach to LMS and digital learning environment design. 
Whether you are a school that does not have an LMS, or you have one that needs rethinking, you won't want to miss this essential professional learning and leadership opportunity. 
Showcase Presenters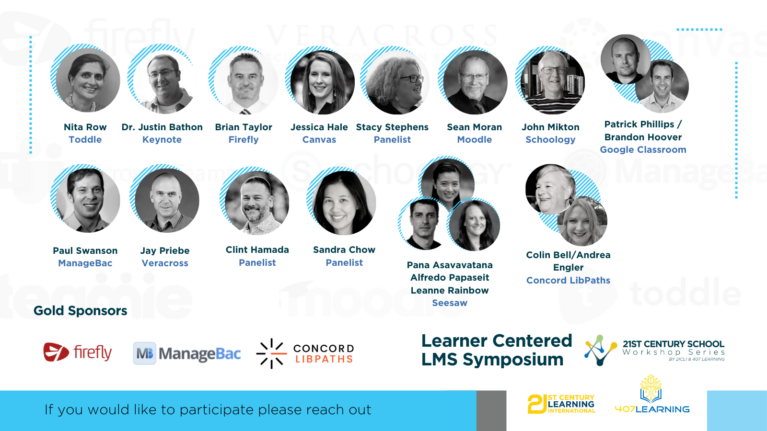 Learning Management Systems (LMS's) are an essential part of a school's learning environment.  However, school technology services face an array of competing priorities driven by the needs of a diverse community of stakeholders. 
This symposium will prompt thinking and support school-based conversations about how LMS design supports the needs of all stakeholders while keeping the focus on students, teachers, and parents. 
This symposium is the first in a series of events focused on Learning Management Systems in which we will cover the selection, implementation, and sustainability of LMSs.  
Who Should Attend and Why?
Directors of EdTech / Directors of Innovation

Technology Coaches/Integrators

Curriculum Coordinators

School-Based Leaders 

Heads of School
We encourage teams to attend the workshop so they can take advantage of hearing the multiple perspectives allowing later engagement, discussion, and team reflections.
Symposium Highlights
What is the role of an "LMS" in a digital learning environment 

How do technology leaders balance out the needs to have the best systems to meet particular needs with the demand from users to reduce complexity?

Being intentional about learner centered design – optimizing for student, teacher and parent experience

Considering what LMS is right for your setting, purpose,and approach to learning. 

Getting the most out of the platforms you have – are you making things as frictionless as possible?

Discussing and highlighting the different ways schools can set up an LMS's to support their school's mission and vision

Hear from a variety of different schools using different platforms 

Understanding the importance of the "structures" for your LMS

Understanding the importance of developing common agreements across your school

Discussing what makes an LMS impactful

Providing examples of how an LMS can be used well from an instructional design perspective

How to leverage your LMS to involve parents in the learning process
Symposium  Structure
Introductions
Keynote – Dr. Justin Bathon: "Digital First: Upgrading our Definition of School"
Showcase 1
Showcase 2
Panel Discussion
Showcase 3
Breakout Conversations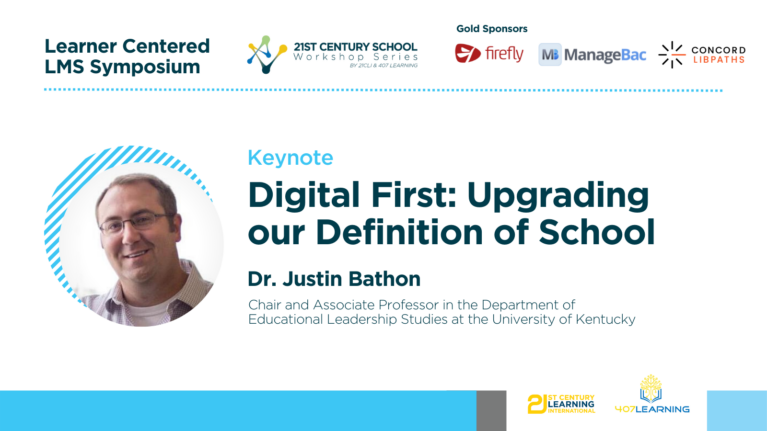 Panel Discussion
How has your perspective of LMS changed from the experience in the last two years?

Situating your LMS within your broader digital ecosystem. 

Taking a whole of school approach – how do you make the LMS not just an "IT Project"

How do you keep the student first and foremost in the design of your LMS
Panelists
Sandra Chow, Director of Innovative Learning, Keystone Academy
Clint Hamada, PK-12 Education Technology Coordinator, International School of Beijing
Stacey Stephens, Director Of Learning, International School of Kuala Lumpur
John Mikton, Head of Education and Media Technology/ Deputy Principal, International School Luxembourg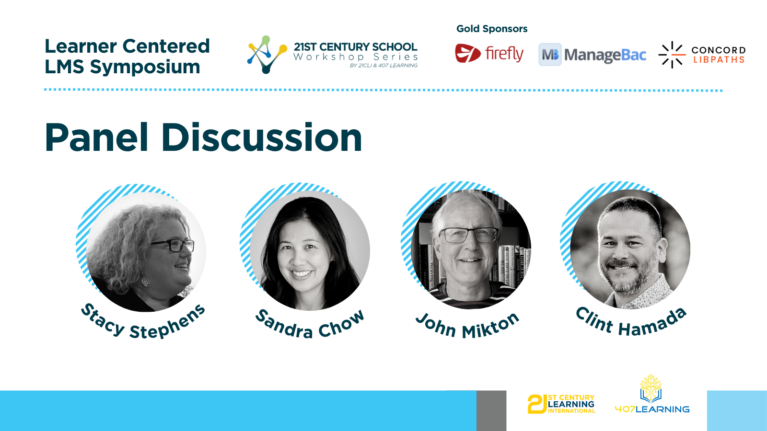 Confirmed Breakout Sessions
Brian Taylor – Bangkok Patana School – Firefly

Clint Hamada – International School of Beijing – Teamie

Sean Moran – The Independent Schools Foundation – Moodle

Jessica Hale – Oasis International School – Canvas

John Mikton – International School of Luxembourg – Schoology

Nita Row – Bombay International School – Toddle

Jay Priebe – NIST International School – Veracross

Paul Swanson – Stamford American School – ManageBac

Brandon Hoover / Patrick Phillips – International School Manila –  Google Classroom

Pana Asavavatana / Alfredo Papaseit / Leanne Rainbow – Seesaw

Breakout "Showcase" Presentations:
Each 20m Breakout presentation will be structured around the following sections. Breakout sessions are answering the question of – how is the overall system designed with student and educators needs in mind. What was selected, how it was it setup, and why?
Fundamentals – What does your LMS Cover? 

Grading/Assessment

Reporting

Student Communication

Parent Communication

Learning Materials

Submission/Feedback on Student Work

Parent Access – is there – to what extent?

What does the student experience look like? (design for students)

What does the teacher's experience look like?

What are you really proud of?

What are the challenges if any?

How are you innovating or taking it further?
Gold Sponsor



Hear from the following platforms: