Explore successful models for creative, innovative and sustainable coaching programs.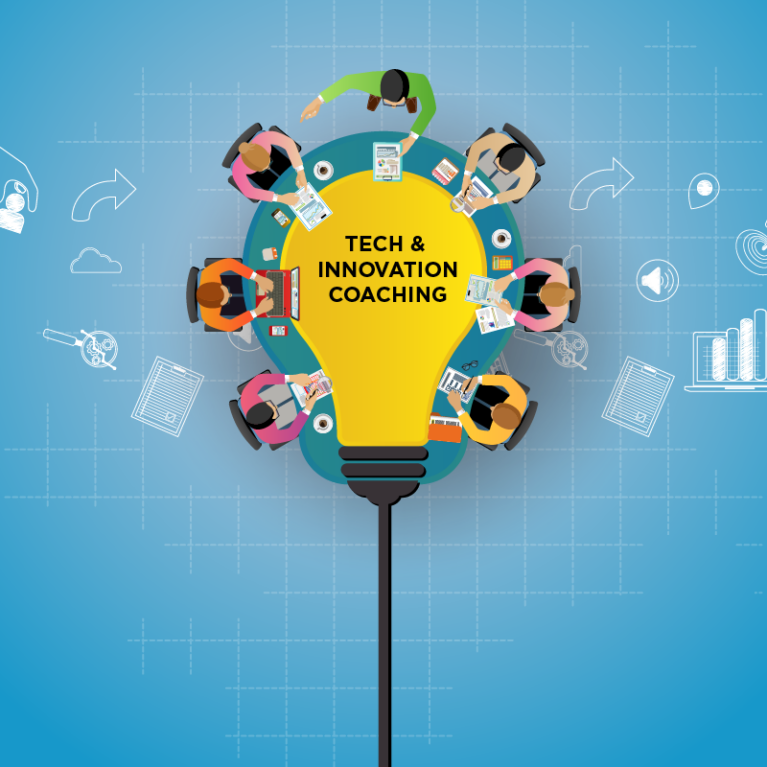 Overview
This engaging 2.5-hour session will invite participants to explore different approaches to implementing innovation and technology coaching in schools. Participants will learn how individual schools have designed, resourced, and utilized innovation and technology coaches.
Whether you are a school that already has coaches or thinking about adopting or expanding a coaching program, you won't want to miss this essential professional learning and leadership opportunity. 
Coaches are becoming essential parts of a school's learning environment.  However, as this is a rapidly evolving area, there are no "blueprints." For every successful technology and innovation coaching program in a school, there is another that is not being leveraged to its full potential. 
This symposium will prompt thinking and provide ideas to support school-based decisions around how they approach technology and innovation coaching.
This session is applicable to tech and innovation coaches (or those that aspire to be) as well as leadership in schools that are seeking to strengthen their coaching program (or implement one).
Symposium Highlights
How to make coaching sustainable in your school?

How do you balance meeting the needs of all teachers with working with the willing?

How to successfully collaborate with other coaches (i.e literacy, Math, etc) at the school?

The importance of a mission and vision for coaching in your school?

What are the key skills and attributes necessary for tech and innovation coaches?

How do you measure success in tech and innovation coaching?

Take away resources – job descriptions used in a variety of schools
Want to stay updated? Contribute?
Essential Questions
How are tech and innovation coaches best positioned in schools? As part of the instructional coaching team? As part of the technology team?

How do you get started with a coaching program in a school with little history of instructional coaching?

How do you know which coaching approach or model is right for your school?
Who is Presenting?
Sandra Chow & Simon Hobbs (Keystone Academy Beijing)
Building capacity for digital & innovative learning with NEXTeachers and coaching.
Amy Garrett (Hong Kong International School)
Making Coaching Visible: Building and branding a culture of Coaching.
Cora Yang (Renaissance College Hong Kong)
How to build up organic coaching system in secondary context
Sarah Hodgson (American International School of Bucharest)
Growth of a Coach: Sharing Experiences of Support and Opportunity
John Mikton (​Ecole Internationale de Genève)
Dispositions and strategies to support teacher in engaging with digital fluency
Emily Jones (Harrow International School Bangkok)
Our tech integration journey at Harrow with myself as the leader/coach
Danai Maramba (Saigon South International School)
Using the collaboration cycle to build teacher capacity around digital learning.
Liam Murphy (Kellett School)
Defining an innovation pedagogy and whole school approach
Tim Bray (American STEM Prep Daegu)
New School startup – coaching culture from day 1
Kate Van Den Hoek (International School of Luxembourg)
Reflection on Resilience: How can coaches find ways to develop resilience?
Panel Discussion
Panelists
Kristin Durward, Consultant, KDPD
John Mikton, Primary Technology Learning Coordinator, Ecole Internationale de Genève
Tim Bray, Founding Principal, American STEM Prep in Daegu, Korea
Cora Yang, Whole School Learning Technology Coach at Renaissance College Hong Kong
Panel Questions
One is one high leverage thing I can do to have an impact?

What is the best approach – work with the willing or should you touch base with everyone?

Should coaching be a part of all teachers professional growth cycle?

Working with admin – how do you craft effective partnerships with school leadership?

Have you seen a shift from technology coaching to innovation/instructional coaching? Do these terms even matter?
Workshop Structure
HK Time (GMT+8)


Length
Agenda Item
16:00

15m

Introductions, Theory, Best Practice, Design
16:15

20m
Guest Speaker Keynote


16:35

20m


Showcase 1
16:55

5m
Transition
17:00

20m
Showcase 2
17:20

25m

Panel Discussion
-TBC
-One question from the floor


17:45

20m


Showcase 3
18:05


5m
Transition to Wonder
18:10

20m

Breakout Conversations Around Areas of Common Interest
18:30

5m

Wrapup / Closing Thoughts


18:40

..
Breakout room is open for anyone who wishes to keep chatting.
Who Should Attend and Why?
Technology Coaches

Innovation Coaches

Educators who would like to move into a tech or innovation coaching roles

STEM/STEAM Coordinators/Specialists

Directors of EdTech / Directors of Innovation

Curriculum Coordinators

School-Based Leaders 

Group Technology Directors
We encourage teams to attend the workshop so they can take advantage of hearing the multiple perspectives presented. This will support schools and their teams in subsequent internal engagements including discussion, design, and undertaking team reflections.