Imagine you had a successful education career spanning back over 40 years. What sort of things would stand out to you and what would you want to pass on to future generations?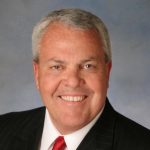 Those are the kinds of conversations I was fortunate enough to have today with Jim Perry, president of the California Interscholastic Federation and district athletic director for Huntington Beach Unified High School District.
We discuss his early career in education, what we can all learn from sports, what he has learned in his career and where the future of athletics is going.
Connect
Bio
Jim is the District Athletic Director for the Huntington Beach Union High School District in Huntington Beach, California. He works with six comprehensive high schools and also serves as President-Elect of the California Interscholastic Federation (the CIF is the governing body for all 1,500 plus member high schools and over 850,000 student-athletes in the State of California).