Digital portfolios are a great idea! Digital portfolios are often a real pain in the rear to actually to make happen in the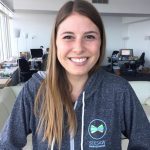 classroom. Logging in is difficult for younger students, blogs are not easy to learn for some older students and it is hard to share the information with parents and others. The list is long enough and creates enough barriers to entry to scare away the majority of educators.
SeeSaw, an iPad app, seems to solve the problem.
At the risk of sounding like I am being paid by SeeSaw (I am not), this app has changed how my school uses digital portfolios and is spreading virally through our elementary division. Its intuitive interface, use of QR codes for logins and parent connection makes it easy for students to reflect on their work, send it to their teacher and eventually to their families.
Today I talk with Emily Voigtlander, director of teacher success for Seesaw.
Connect with Emily
Bio
Emily is responsible for making sure teachers and students using Seesaw are successful. From implementation guides and lesson plans, Twitter chats to tutorial videos, Emily spends her days working with a diverse variety of classrooms to help them get most out of Seesaw. By working closely with teachers every day, she also helps make sure her team is building the best product for teachers, students and parents.