Designing, or redesigning the best way for a school to make an impact on the future of our students is a more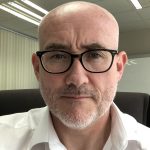 common conversation among educators today. We are starting to see more and more schools emerge focused on this redesign idea and it is very exciting.
Today I talk with Superintendent Cameron Fox about the Verso school, a new concept school set to open in Bangkok in the fall of 2020. Cameron shares the journey he and his team took to design (and design really is a key word here) a school that supports students as the head into our fast, or faster, changing world.
Bio
Cameron is the head of school at American International School Hong Kong. He has been living 26 years in Hong Kong and is completing his 19th year at AIS.
Cameron is the founding head of school for VERSO.
Connect