In early April we sent a survey about completing the ISTE Certified Educator as a fully online experience as an alternative to the current model involving a 2 day face to face course.
A fully online certification process
Over 80% of the many people who completed the survey indicated a strong interest in undertaking the program as a fully online experience, partly because of the current restrictions on travel, but also because this style of delivery, in some instances, would be more suitable for individual circumstances.
We have been working on developing a robust Scope and Sequence for delivering the new course and we are delighted to let you know that we are now one of the ISTE Certified Training Providers who have been authorised to deliver the course in this way.
What the process looks like …..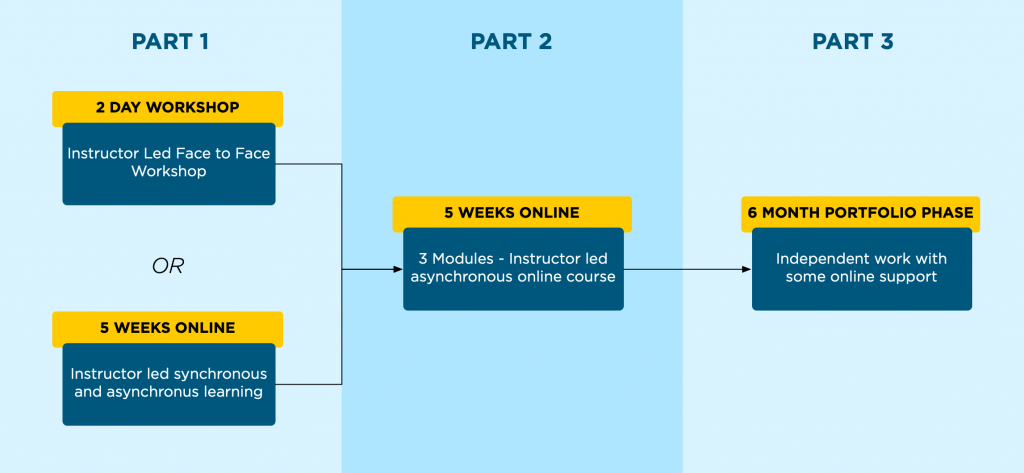 One of the things that educators who attend the two day face to face training appreciated was the camaraderie established within the group and we have been exploring how we can replicate this in a fully online format. The result is a five week experience that blends a mixture of synchronous and asynchronous learning activities to create a rich and worthwhile online learning experience.
Participating in the new model will require a commitment of approximately 18 hours over the 5 weeks of this phase of the course. You will have activities to work on during the week, sometimes on your own and sometimes in small groups, followed by a group call at the weekend.
Each course will have two instructors with a minimum of 12 students and a maximum of 30 to ensure a highly interactive and supportive environment
Interested ….
You can find out more about the format of the course and the time commitment by Downloading the Syllabus
The remainder of the course is identical to before with completion of 3 online modules over a further 5 week period. You then have 6 months to complete and submit a portfolio for final evaluation by ISTE.
This is a substantive qualification that goes well beyond anything previously offered in the educational technology space. If you are a motivated educator looking to provide you and your school with a more rigorous approach to the use of technology then this may be the course for you!
Initial courses
Cohort
Start Date
Time (UTC)
Reference Times for Saturday Sessions
001
23 May
UTC+8
Hong Kong: 09:00
Sydney: 11:00
London: 02:00
Amsterdam: 03:00
Dubai: 05:00
San Francisco: 18:00 (22 May)
New York: 21:00 (22 May)
Rio de Janeiro 22:00 (22 May)

More Info
002
23 May
UTC+2
Amsterdam: 09:00
Hong Kong: 15:00
Sydney: 17:00
London: 08:00
Dubai: 11:00
San Francisco: 00:00
New York: 03:00
Rio de Janeiro 04:00

More Info
003
11 July
UTC-4
New York: 09:00
Hong Kong: 21:00
Sydney: 23:00
London: 14:00
Dubai: 17:00
Amsterdam: 15:00
San Francisco: 06:00
Rio de Janeiro 10:00

More Info