High Tech High is a well known brand in the education world. But do we really know and understand their core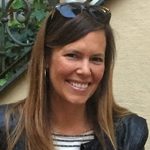 values and educational philosophy? How does it impact their students and growth of the organization?
Today I talk with Melissa Daniels from the High Tech High organization. Melissa is a director at High Tech High Middle school in Chula Vista, California.
Connect
Bio
Melissa began her teaching career at international schools in both Cairo, Egypt and Rio de Janeiro, Brazil. After teaching internationally for seven years, Melissa joined High Tech High as a 6th grade humanities teacher. In 2011, she became the founding director of High Tech Middle Chula Vista.