21st Century Learning is a popular term today when talking about the future of learning for our students. So popular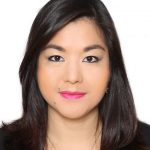 that I actual work for a company with that very name.
Putting the shameless self-promotion aside of that statement, I came across Daniela Silva at the 21st Century Learning Conference in Hong Kong this past February. As the district coordinator of 21st Century Learning for the Qatar Schools Foundation, she is charged with melding their PYP program with the P21 framework to create outcomes that fit both. From there, it is time to implement the new ideas in their schools through professional development sessions and the creation of learning commons through the buildings.
We talk about all those things today.
Connect With Daniella
Bio
Daniela is a proud Third Culture Latina mom living in Qatar for 4 years. She believes in innovative education, reflective and regulated learners, and  21st Century learning. She has worked in international schools in South America, Asia, Middle East and is an IBDP Principal Examiner and Workshop Leader for the AEM region and expert panelist of NMC Horizon Report 2015 K-12, 2015 International Schools of Asia and 2016 K-12 research projects.